Progressive farmers have begun to adopt modern techniques such as precision irrigation that do not rely on rain. In an exclusive interview with Tulana Nayak from African Farming, Elad Levi, vice president and head of Middle East & Africa, Netafim, speaks about their precision irrigation solutions that ensure longevity of crops in the face of climate change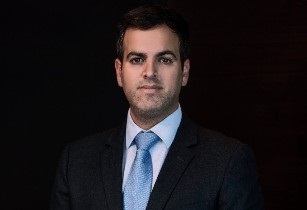 Elad Levi, vice president and head of Middle East & Africa, Netafim. (Image source: Netafim)
Progressive farmers have begun to adopt modern techniques such as precision irrigation that do not rely on rain. Elad Levi, vice president and head of Middle East & Africa, Netafim, speaks with Tulana Nayak from African Farming about their precision irrigation solutions that ensure longevity of crops in the face of climate change.Progressive farmers have begun to adopt modern techniques such as precision irrigation that do not rely on rain. Elad Levi, vice president and head of Middle East & Africa, Netafim, speaks with Tulana Nayak from African Farming about their precision irrigation solutions that ensure longevity of crops in the face of climate change.What are the economic and environmental benefits of drip irrigation?
Elad Levi: Drip Irrigation, which was pioneered by Netafim in Israel's desert more than 50 years ago, is the most efficient water and nutrient delivery system for growing crops. It delivers water and nutrients directly to the plant's root zone, in the right amounts and at the right time, to grow optimally. It contributes towards increased agricultural productivity which will reduce production costs while using the same or less inputs. For example, drip irrigation benefits both farmers and crops in several ways. Farmers who use it have a higher ROI than other irrigation methods, higher consistent quality yields, water savings, and 100% land utilisation as the drip method irrigates uniformly in any topography and soil type. It also works on low water pressure, resulting in energy savings, uses fertilisers more efficiently and is not dependent on the weather, providing greater stability and lower risks for farmers.
It is also better for crops as it distributes a balanced and consistent supply of water, as well as frequent nutrients in small doses, which are needed for growth. This means that the crops receive doses of water and nutrients tailored to the specific plant's needs so that there is no saturation and good soil aeration. By preventing foliage from getting wet, the system also protects against fungal diseases. One major long-term benefit of drip is its ability to drive climate resiliency, bringing stability to the farming community while producing sustained harvests to ensure food security. This is because drip enables farmers around the world to meet the growing demand for food without using up our limited resources, and helps us preserve our planet for future generations.
Climate-smart irrigation methods such as drip reduce greenhouse gas emissions from agriculture production systems when compared to other traditional irrigation methods, minimising negative effects such as soil erosion, soil crusting, salinisation, and agricultural runoff.
Why is precision irrigation important for farmers in the face of climate change?
Precision irrigation, a unique sustainable agricultural approach which includes drip irrigation, is vital because it enables farmers to grow on any topography, field shape, or size and in any climate. It turns land, unfit for growing with traditional irrigation, into arable farmland and gives plants optimal growing conditions, which drives higher outputs and enables multiple crop-cycles per year. It allows farmers to increase their water usage efficiency by more than 50%, boosts yield production and precision and allows better use of recycled water.
This has become more important in recent years due to climate change, which has introduced several issues concerning water availability in Africa and other parts of the world. Farming depends largely on rainfall, open wells, rivers, and surface irrigation methods but this is becoming more challenging due to climate change and drought. Climate change will likely reduce crop yields in Africa, and has been visible and experienced in recent years due to drought and increased temperatures which affects crop growing phenology and adds environmental stresses on crops.
To mitigate growing water stress, African countries are striving to switch to irrigated agriculture. Here, when the water is precious, hi-efficient precision irrigation farming plays a big role. Climate change imposes shifts in the farming industry with more farmers around the world embracing the necessity of utilising environmentally friendly agricultural practices, such as drip irrigation, as a solution to the rising temperatures and less available water.
How is Netafim helping farmers in Africa? Please share some success stories.
Netafim is leading water and irrigation opportunities in Africa by reaching individual growers, smallholders, corporate farms, communities, NGOs and federal government & irrigation ministries. It provides advanced agriculture solutions including feasibility survey, irrigation designs, water delivery infrastructure, infield smart irrigation solutions to all sectors of growers and crops, as well as crop & project planning consulting and advisory.
One success story of which we are proud was with a community in Niger, which like much of the globe, is experiencing the effects of climate change – but to an extreme. With its temperature rising 1.5 times faster than the global median and averaging 45 degrees Celsius, farmers across Niger struggle to grow food in scorched, sandy soil, resulting in an unprecedented high rate of chronic malnutrition among young children.
The Netafim team, along with the IFC (International Finance Corporation), was able to set the wheels in motion for fundamental and widespread change via the Niger Irrigation Project, a pilot programme intended to strengthen the country's resilience to climate changes through the sustainable development of drip irrigation. As part of the pilot, Netafim installed family-size drip irrigation systems, some of which were powered entirely by solar energy pumps that drip water and nutrients to the base of the plant, significantly reducing water consumption and improving the quality of the crops.
Netafim trained more than 900 hundred farmers in the use of the technology. This resulted in greater knowledge, increased yields, higher income and more control. Netafim has also worked extensively in 12 countries across sub-Saharan Africa in countries such as Senegal, Ethiopia, Mali Kenya and South Africa.
Did the pandemic change anything in the irrigation sector?
The Covid-19 pandemic made the world understand the importance of food security and farming. Restrictions on imports, transport and other logistical issues forced more countries to produce more of their own food. As a result, agricultural production is getting greater attention from governments, corporate farms and medium to smallholder farms. As the demand and cost of agricultural produce increased, farms were able to invest more in technology leading to many more farms adopting irrigation technologies.
Please share and elaborate on the new and upcoming irrigation solutions from Netafim.
Meeting the food needs of the growing population and to improve rural livelihoods with minimum environmental disturbance, Netafim is developing a solar drip irrigation solution. The product is yet to launch officially but is a concrete example of the dedication that Netafim has towards developing sustainable technologies.
Our acquisition last year of Gakon, a turnkey greenhouse projects provider, broadens our controlled environment offering, enabling much larger scale projects of this nature for any type of crop to be grown anywhere in the world. Our aim is to be able to provide the necessary technology to ensure sustainable agriculture to meet the interest in locally grown fresh produce amid increasing concern over food security due to increasing populations. On a practical level, this means that Netafim will provide growers with a comprehensive offering of the best greenhouse technologies, structures, irrigation, fertigation, and crop growing expertise as well as other agriculture-related services to enable farmers to maximise productivity and efficiency in all climate conditions.
As part of our mission to ensure a sustainable food future, we have also started a new initiative that makes precision irrigation technologies more accessible to people who have never used them before, such as smallholders. We are doing this by providing a DIY-style instruction manual, which uses an easy-to-understand layout of images and videos which shows a user how to install and use our systems. We believe that more farmers using precision or drip irrigation means that more crops will be grown in a sustainable manner and help smallholders to grow more with less.
Lastly, we're also progressing our digital farming capabilities, making it easier to automate and optimise farming decisions centered on irrigation, empowering them to act on data-driven insights. Despite the current challenges regarding food security, we believe that through the use of precision irrigation, we can become less dependent on weather and social conditions to ensure enough food is grown sustainably.