As with many other farmers, Bob Wietharn had a real problem. He irrigated from a river so shallow that he could usually wade across it, but the nozzles of his centrepivots kept clogging up with debris sucked up through the system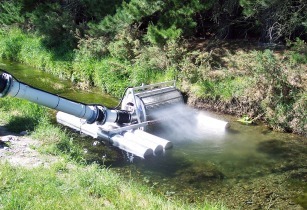 The Riverscreen in action in a shallow irrigation stream. (Image source: Riverscreen)
Cottonwood fuzz was the worst offender and a screen over the pump inlet that prevented sticks from entering would then clog up with cottonwood fuzz. Conversely, a screen large enough to let the fuzz through also allowed larger debris through, leading to frustrating hours of cleaning nozzles and filters.
Wietharn faced the tough choice: either quit irrigating or design some type of self-cleaning device to fit onto the suction inlet.
The answer he came up with was the Riverscreen – a rotating water-driven, self-cleaning screen that dependably delivers good water from water as shallow as 100mm. Wietharn developed and built a prototype that he believed worked flawlessly. Neighbours heard of it and also wanted to try it.
The Riverscreen was born and a highly successful manufacturing and distribution enterprise based in Kansas, USA, ensured.
Today Riverscreen is available in almost every state in the United States and in 15 countries around the world, including South Africa.
The device is a water-driven rotating self-cleaning screen that dependably delivers good water from as little as 100mm in depth, solving the problem of reliably drawing clean water for centrepivot irrigation from a river or canal.
It has been designed and built for shallow water pumping and prevents sand, leaves and other debris in the water source from getting into and clogging filters, reducing maintenance and operational costs.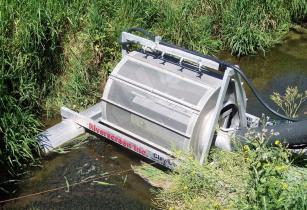 A #8 304 stainless steel mesh is standard on all units, with other sizes available on request. Other specifications include screen drums from 40.5cm x 61cm to 81cm x 122cm, and a light but sturdy aluminium frame pontoons that enable the Riverscreen to float on and rise and fall with the water surface.
Different models – 10cm, 15cm, 20cm, 25cm and 30cm –fit different suction lines. An optional power drive that requires a flow of only 23L/min keeps the drum turning even in a slow moving current or in still water, as in the case of a sewage farm.
The optional lifting boom is galvanised for long life. It has a heavy duty 15cm diameter upright main pipe, a trussed boom for greater strength, a brake winch for easy operation and a quick latch hook for easy hook-up.

READ MORE...
The history of the Riverscreen