After entering into a tripartite agreement with the government and the Namibian Development Corporation (NDC) for one of the oldest green scheme projects in the country 10 years ago, Tulio Van der Merwe Parreira could soon invest N$50mn (US$5.5mn) in upgrading the infrastructure on the government project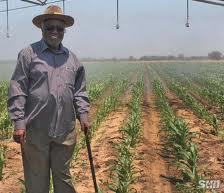 President Hifikepunye Pohamba pictured at an irrigation system at the Musese project.
Speaking to New Era, the Rundu-based businessman said he is just waiting for AgriBank to approve his loan application for N$50mn (US$5.5mn) to start with the envisioned Private Public Partnership plan that could boost the country's food security and reduce food imports.
"Since the project is situated in a communal area it will be impossible to get a loan from the commercial banks, therefore I approached AgriBank and listed my own property as security to make sure that the entire available land at the project is under irrigation," he explained.
Parreira is confident the investment will boost food production at the 1,000-ha Musese irrigation project, situated some 70 km west of Rundu. Parreira sealed a 30-year tripartite partnership with the government and the NDC.
Forming part of his new investment plans will be the acquisition of an additional water pump at the project which he says pumps as much as 3000 cu m of water per hour.
"The extra pump will be very useful, because its efficiency is very high, hence the electricity we will use to pump water will be less," said Parreira.
"When I partnered with government 10 years ago only 112 ha were under cultivation. At the moment 280 ha of the 800 ha are under cultivation, but we would like to make maximum use of the entire area," he said.
After the agreement ends, all the infrastructure will belong to the government. The 53-year-old businessman said he wants to put up more infrastructure to produce more food at the farm and at the same time create more jobs.
The region currently has seven green scheme projects that fall under the Ministry of Agriculture, Water and Forestry. Following the global food crisis in 2008, extra efforts were made in the area of food production to ensure that the country becomes self-sufficient in food production.