The new World Bank report Rising from the Depths: Water Security and Fragility in South Sudan describes the impact of floods and other water-related threats on South Sudan's communities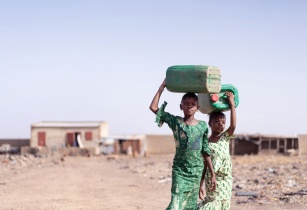 South Sudan is already a global hotspot of flood risk, ranking 7th in the world for share of total country population exposed to river floods. (Image source: Adobe Stock)
The report also shows that water insecurity is an existential threat to South Sudan, with the lack of access to safe water supply and sanitation being a core issue of concern for the dignity and well-being of millions of South Sudanese.
More than 60% of the population are using water from contaminated water sources such as surface water and unprotected wells, while 75% of the population are practicing open defecation. In addition to this, South Sudan also experiences frequent droughts, especially in the south-east and north-east, which affect the mobility of pastoralists and farmers who rely on natural resources for their livelihoods.
The report highlights five priorities:
The country needs to strengthen the policy and institutional frameworks to guide water sector investments and ensure their sustainability.
It is essential to address the water supply and sanitation crisis by strengthening service delivery models for rural populations, enabling sustainable use and management of groundwater resources, and promoting climate-resilient solutions.
Advancing disaster risk preparedness and early warning systems will help prevent flood losses and economic damages that are hindering growth prospects.
There are substantial opportunities to harness the productive potential of water through investments supporting domestic fish production, wetland restoration, and flood-recession agriculture.
A comprehensive portfolio of water management infrastructure solutions is needed over the long term, with careful attention to the social and environmental impacts of investments.