Water Ways Technologies Inc (WWT) has signed two new irrigation projects in Ethiopia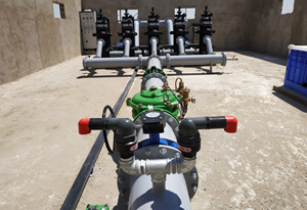 Head control system with automatic screen filters, pressure relief valve, water meter and other components to control the water's pressure and content in Uzbekistan. (Image source: Water Ways Technologies Inc)
The first project consists of the installation of advanced irrigation technology assembled at a 3,000 ha sugar cane field and the supply of various components, such as valves and fittings for sprinkler systems.
The value of this project is approximately US$453150 and WWT expects it to be delivered and installed in the next several months. The second project consists of the upgrade of an existing 25-ha herb greenhouse, valued at approximately US$151050, which will focus on redesigning and remaking the farm's head control system, including pumps, filters, controllers, fertigation units, valves, pipes, fittings and accessories.
The projects in Ethiopia are guaranteed by a letter of credits and payments to the company in respect of both projects are anticipated in the Q4 2019.