At the high-level event of the 2022 African Year of Nutrition, co-organised by the African Union (AU) Commission, the Government of Cote D'Ivoire, African Development Bank (AfDB), along with several other partners and stakeholders, AU member states renewed their commitments towards nutrition on the continent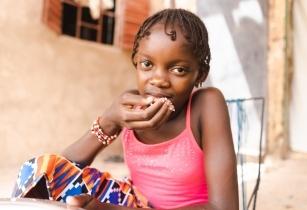 The theme adopted by the AU was: 'Strengthening Resilience in Nutrition and Food Security on the African Continent'. (Image source: Adobe Stock)
The theme adopted by the AU was: 'Strengthening Resilience in Nutrition and Food Security on the African Continent'. The Declaration calls for implementing and extending the African Union roadmap beyond 2022. The year's theme encourages member states to examine challenges posed by hunger and malnutrition and identify actions and strategies to address them.
The African Union Nutrition Champion King Letsie III of the Kingdom of Lesotho, in his remarks urged all the stakeholders to redouble efforts to end hunger and malnutrition in the continent.
African Leaders for Nutrition, hosted by the Bank, aims to increase financing resources for nutrition by mobilising African governments to adopt stronger policies and increase financing for nutrition.
The meeting brought together more than 30 AU member states to discuss and share experiences on how to allocate financial, material, and human resources for priority nutrition interventions at the national and local levels in a more optimal way. The event further focused on promoting strong political momentum to mobilise commitments and investments to fight hunger and malnutrition on the continent.