The demand for milk in Kenya has risen following an increase in the country's population causing farmers in the country to import quality breeds of cow from South Africa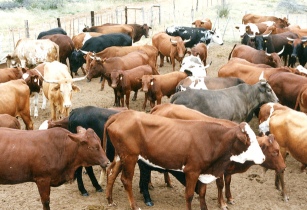 EDFA has sold heifers to dairy farmers outside of Kenya, including Uganda and Tanzania. (Image source: ILRI)
Eldoret Dairy Farmers Association (EDFA) has imported 23 heifers from South Africa in a bid to improve the quality of dairy cows and boost milk production, it said.
Agricultural Finance Corporation will contribute US$1.1mn to the project to allow farmers in Kenya to import the heifers, the company stated.
According to EDFA chairman, Nicholas Kositany, the association has welcomed visitors from Uganda, Tanzania as well as other parts of Africa seeking to buy heifers from them.
Kositany was speaking while visiting dairy farmers in the town alongside AFC chairman Patrick Osero and MD Lucas Meso with their officers.
"This is a milestone in the history of dairy farming in our country and revolution of the industry has just began in the North Rift," Kositany said.
"We will import an additional 145 heifers next year and the number may increase since many farmers outside our group are interested. By mid-January, we will have known the exact number," added Kositany.