The Nigerian government, in collaboration with Millennium Development Goals (MDGs), has announced that it will distribute 8,000 bags of fertilisers to female farmers as part of a UN empowerment programme at Taraba State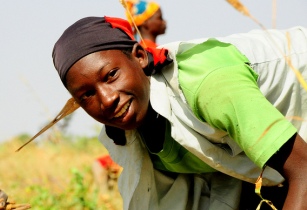 In July 2014, female farmers in Taraba State had called for governments' assistance in the area of procuring agricultural equipment. (Image source: ICRISAT HOPE/Flickr)
The MDGs are eight international development goals that were established following the Millennium Summit of the UN in 2000 following the adoption of the United Nations Millennium Declaration. Each goal has specific targets and dates for achieving those targets.
Acting director of the Ministry of Agriculture, Amos Mafe, said that the initiative was designed by Nigerian President Goodluck Jonathan to empower women and reduce poverty through food production.
"Under the MDGs Women Empowerment Scheme, each of the beneficiaries was entitled to a bag of fertiliser free of charge. This exercise will go a long way to spur food security in the state," added Mafe.
Mafe noted that the beneficiaries were expected to redeem their fertilisers from the four redemption centres located in Jalingo, Iware, Mutum-Biyu and Bali in Taraba State. He also urged the beneficiaries to ensure that they made good use of the fertilisers by applying them on their farms instead of selling them.