A new research project carried out by the International Livestock Research Institute (ILRI) and the International Water Management Institute (IWMI) will help livestock and irrigated agriculture farmers in Ethiopia enhance their livelihoods through value chain improvement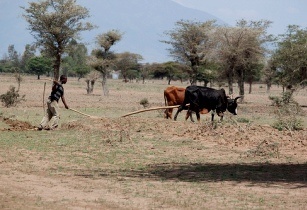 The project is set to benefit more than 200,000 households working in livestock and irrigated agriculture. (Image source: Bioversity International)
The project, which is entitled 'Livestock and Irrigation Value chains for Ethiopian Smallholders-Lives' (LIVES), will work with the Ethiopian government in a drive to transform smallholder agriculture to be more market-oriented.
"It is also excellent opportunity for CGIAR centres to work hand in hand with Ethiopian research and development institutions," said LIVES project manager Azage Tegegne.
A total of US$19mn has been injected into the project, which aims to help more than 200,000 households working in livestock and irrigated agriculture, providing skills to more than 5,000 public service staff, and work with 2,100 value chain input and service suppliers at district, zone and federal levels.
"Projects that support local farmers can help a community in so many ways; not only by providing food and the most appropriate crops, but also by teaching long term skills that can have an impact for years to come," said Canada minister of International Cooperation the Honourable Julian Fantino.