The International Crops Research Institute for the Semi-Arid Tropics (ICRISAT) has extended support to farmers in the Sahelian countries of Niger and Chad to boost food security amid the Ukraine-Russia conflict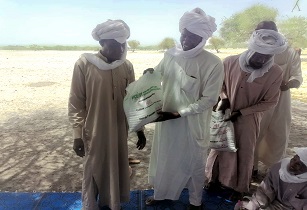 Seed kits distributed to farmers from Marawow village in Chad. (Image source: ICRISAT)
The conflict has taken a major toll on global food and fertiliser prices, thereby making food scarcer and unaffordable in Sahelian countries. In an attempt to effectively combat these challenges, ICRISAT's Niamey genebank team, under the leadership of ICRISAT's Niger country representative Falalou Hamidou, has launched an initiative to help prevent destabilisation of the region. ICRISAT's primary focus lies in increasing the productivity of staple crops such as pearl millet and sorghum that are crucial for local food production.
Besides this, ICRISAT's Niamey genebank is also addressing the Sahel's lack of a formal and structured seed sector by undertaking the Seeds Kits Project, funded by GIZ through the Crop Trust. The project particularly targets regions producing low yields of the two staple crops, identifying households that are most at-risk. Chosen households are provided with a valuable seed kit, containing five kilograms of pearl millet or sorghum varieties. In total, 1200 seeds kits of 17 accessions were distributed in Niger, while 828 seeds kits of eight accessions went to Chad.
The initiative plays a role in significantly enhancing food security and resilience against volatile food prices by ensuring the availability and affordability of high-quality seeds for local farmers, while also contributing to more than 50% of the annual cereal consumption. A comprehensive monitoring and evaluation process is currently underway to assess the performance of the accessions across multiple locations in Niger and Chad.
"ICRISAT is unwavering in its commitment to stand with all those who call the Sahel home. We will continue to provide practical support to address food security and bolster dryland resilience in the region, especially at this sensitive time," said director general of ICRISAT, Jacqueline Hughes.