SOCODEVI Ghana, a Canadian non-governmental organisation, has pledged its continuous support for the economic empowerment of rural women to help improve on their social lives and contribution to national development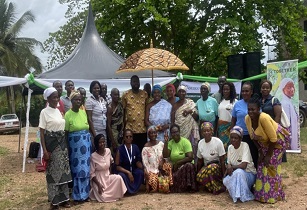 The project is introducing women farmers to village savings and loans associations. (Image source: GNA)
Theophilus Nkansah, Ashanti regional coordinator of SOCODEVI, who made the call, said rural women's contribution to agriculture, socio-economic, political and rural development continued to impact positively on society.
Speaking at a durbar to commemorate the 2023 International Rural Women's Day at Huntado in the Bekwai Municipality, he said women played enormous roles in communities and families, benefitted greater number of people in society.
"Women sacrifice a lot to make families and communities move and this makes them valuable assets globally," he stated.
Nkansah observed, "Despite all the great things women do, they do not get the same benefits as men.
"There is a gender gap between men and women and in most areas, there is dominance over women.
"As we celebrate the achievements of women, we call on all men and stakeholders to come together and work towards improving the livelihoods of women, because we are not leaving them behind."
He said SOCODEVI had initiated a project to bridge the gender gap, empower women and youth in some rural communities in Ghana.
The Together -Women and Cocoa Communities Project, is a five-year (2022-2025) initiative which is being implemented by SOCODEVI in collaboration with COCOBOD, Ministry of Food and Agriculture, Department of Cooperatives, Forestry Commission and Licensed Buying Companies, to empower women and young adults in rural cocoa producing areas in Ashanti and Western-North Regions.
Madam Lilian Kuutiero, gender equality facilitator leader for the project, Ashanti Region, highlighting more on the project activities said women are being taken through leadership development, building entrepreneurial skills and supported with start-up assistance.
The aim is to empower about 3,000 women above age 36 and some 1,000 youth between ages 18-35 at the end of the project period.
Aside from these, the project is introducing women farmers to village savings and loans associations which have been tested to be a flexible form of credit acquisition.
Madam Kuutiero, urged women to form cooperatives which could be used as one of the avenues for economic empowerment.
Nana Adutwumwaa Bonin III, Queen of Denyase, called on women farmers to encourage their wards to embrace agriculture saying the benefits in farm activities could engender a successful future.
Madam Cecilia Okyere, Women Cooperative representative at Huntado, commended SOCODEVI and partners for introducing them to loans and savings schemes, and skills development training. She used the occasion to ask for modern palm oil production equipment to facilitate their oil businesses in the area which served as alternative livelihoods when cocoa growing was not in season.