Farmers in the Machakos region of Kenya will receive free fertiliser which will be bought and marketed by the county government under a new agricultural programme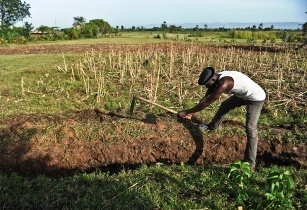 Farmers in Kenya will receive support from the Kenyan county government to cultivate their land. (Image source: CGIAR Climate)
Larry Wambua, county minister for agriculture and co-operative development, said that plans to implement the scheme have been postponed for two weeks while the county awaits money from the national government.
APA insurance, Freshco seeds and Microensure will work together to roll out weather insurance cover known as Ngao ya Mukulima, however farmers who have acquired their own seeds have been advised they should not wait for the seed donations, revealed Kate Waiganjo, Microensure country manager.
"Through the subsidies programme, we intend to achieve self sufficiency in food production in the next two years and end the dependency on relief food once and for all," said Wambua.
"We are done with the procurement process and bids for tractors and seeds and what remains is for us to get our allocations from the central government and make the purchases."