More than 40 international research organisations will be collaborating in a US$25.5mn initiative that will harness bioscience to improve food security in emerging markets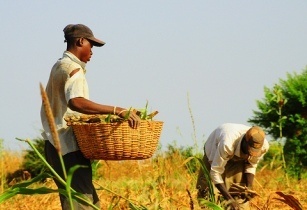 The 11 new research projects will work towards producing sustainable food crops in sub-Saharan Africa and Asia. (Image source: CGIAR Climate)
The new intiative will consist of 11 new research projects, which will develop ways to improve the sustainability of vital food crops in sub-Saharan Africa and Asia.
The projects will work towards producing staple crops that will prevent pests and thrive in even the worst of environmental conditions.
"One billion people currently go to bed hungry every night. By 2050 there will be another two billion mouths to feed. And experts predict the world will need to be able to grow 70 per cent more food," said UK Deputy Prime Minister Nick Clegg.
"The UK's world-class bioscience sector is dedicating vital knowledge and expertise to tackling this global problem. This investment will bring together experts at 14 British universities and institutes who will work with famers in Africa and Asia to develop crops that are resistant to disease, pests and drought.
"Farmers need these innovations to protect their own livelihoods and the health of their communities," he added.
Crop yields for farmers and their local communities within the next five to 10 years and the knowledge and skills developed as part of these projects aim to benefit crop production on a global scale, according to Biotechnology and Biological Sciences Research Council.