New Holland Agriculture and its supplier in Uganda, Cooper Motor Corporation Ltd (CMC), have together donated a TT55 tractor to the 'Kids of Africa' non-profit organisation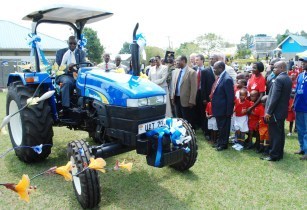 New Holland Agriculture and Cooper Motor Corporation have jointly supported the Kids of Africa to boost agricultural output. (Image source: B4bees)
CMC will also provide training and technical support, it said.
The tractor was handed over during a ceremony attended by Janet Museveni and minister for Karamoja Affairs, top government officials, New Holland Agriculture Africa business manager, Marco Raimondo, the children of 'Kids of Africa', their caregivers and the organisation's staff, representatives of the local councils, as well as the national broadcast and print media.
This donation follows from the previous gift of a 3030 NX tractor in August 2009, as part of New Holland's and CMC's corporate social responsibility programmes, which aim to support the country's social and economic development.
The 3030 NX tractor has enabled 'Kids of Africa' to establish mixed farming on its land, with intensive vegetable production.
This has helped the children's village, home to 93 children and 50 members of staff, to achieve a high degree of food self sufficiency.
Since 2009 Kids of Africa have cleared and developed 10 acres within the village form organic vegetable farming, relying on drip irrigation. They have also hired 15 acres from a local church organisation, which have been dedicated to the production of beans, maize and sunflowers.
They have done such an excellent job with the tractor that they have been ploughing and harrowing land for a growing number of neighbouring farmers, providing assistance to the local community.
The arrival of the new TT55 tractor will enable 'Kids of Africa' to significantly step up their farming activities. These general-purpose tractors are blessed with outstanding power and fuel efficiency. They are designed to meet the most varied needs, providing very easy access on and off the driving seat, and a comfortable workstation.
Highly reliable, they are quick and easy to service, with the one-piece rear hinged hood that gives excellent access to all components from the ground.
The new TT55 tractor will enable 'Kids of Africa' to farm the additional two acres they recently purchased and expand the 15 acres of land hired from the local church organisation, as more than 50 acres of unfarmed land are available to 'Kids of Africa'.
In addition, 'Kids of Africa' will be able to extend its support of local farmers, providing ploughing and land preparation work on a hire basis to the wider community around the village. This will make a huge difference to local production, as, before the arrival of New Holland's tractors, local farmers only had hand hoes to prepare the soil and therefore tended to plant too little, too late, which resulted in a poor harvest.
The children of 'Kids of Africa' are growing up with first-hand knowledge of sustainable, mechanised farming practices. They are learning how they achieve good yields while preserving the quality of the soil by preparing the land for planting with proper ploughing and harrowing followed with mixing into the soil of biological materials such as compost and manure from the village's animal production.