Nigeria would collaborate with Ogun State government to help the state improve its cotton cultivation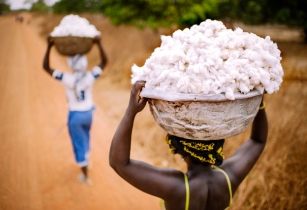 Ogun state government has approved 100mn sq m of land for cotton farming under the supervision of Arewa Cotton. (Image source: Cotton harvest/Flickr)
Ronke Sokefun, commissioner for agriculture at Ogun State, said that the collaboration would assist in the development of the agricultural sector and would also improve the living standards of farmers in the state.
"Ogun State is the choice destination for agricultural investors and we are willing to partner with genuine investors. We assure our commitment to agricultural development and improving the lifestyle of our farmers, while creating a better economic standard for the state," added Sokefun.
Muyiwa Akinsola, director of agriculture and rural development at Ogun State, noted that the state is a major concentration for foreign and local investors and it could be industrialised only through the agricultural sector.
Anibe Achimugu, MD of Arewa Cotton, assured the farmers in the state that the company would provide them with a ready market for their produce.
He further stated that he was looking forward to a peaceful and fruitful collaboration with the government and other stakeholders in cotton production.