Rwanda has announced that it will help farmers to access loans through the Rwanda Development Bank (BRD) in a bid to increase tea production in Nyaruguru District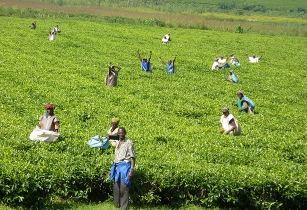 Rwanda is one of the leading tea producers in the world. (Image source: Trade for Development/Flickr)
Francois Habitegeko, mayor of Nyaruguru District, said, "In order to encourage more farmers to embrace tea growing, the government is offering them incentives. One of the incentives is a scheme that will help new farmers in planting and following up their plantations until they grow."
The government will also increase the number of tea factories from the current two to five by 2015. The factories are set to be constructed in Munini and Kibeho in Nyaruguru District.
The projects are in the context of the public-private partnerships and tea farmers will own part of the shares, added Habitegeko.
Areas covered by tea in the district grew from about 3,800 ha to more than 4,600 ha between 2011 and 2014, an increase of 46 per cent, according to official figures.
"Every tea factory will employ at least 3,000 people, including those who work in tea plantations. This is a big figure in terms of job creation and it means that so many individuals who were previously unemployed will get a stable source of revenue," stated the mayor.
In 2013, the Rwandan government had announced plans to increase the country's tea plantations by 18,000 ha by the end of 2017.