ORO AGRI has launched new 200ml crop protection products which are easily available to growers in Africa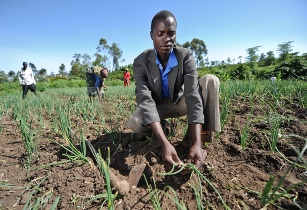 ORO AGRI has launched 200ml crop protection packs for farmers in Africa. (Image source: K. Trautmann)
According to the firm, small-scale farmers usually do not have the financial resources or transport facilities to purchase large quantities of pesticides.
The pack has been developed to allow small-scale growers to mix four to five backpacks from one bottle, said ORO AGRI.
"We have launched this new pack size to provide a product that is affordable, user-friendly, robust and able to withstand being transported in a basket on the back of a bicycle without breaking," stated Johan Coetzee, general manager, sub-Saharan Africa.
"While every effort was made to find a suitable bottle in South Africa, we were eventually able to utilize the global footprint of ORO AGRI to source a bottle meeting our exact requirements," added Coetzee.
ORO AGRI has also created a special booklet label system, which allows the user to read the directions for use without having to remove the label from the container so as to prevent contamination, the company said.