The Wageningen University's Autonomous Greenhouse Challenge aims to maximise the yield and quality of his crop while minimising the use of resources, to save costs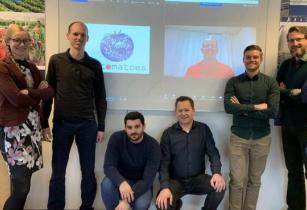 Team AuTomatoes. (Image source: Hoogendoorn)
So far, the challenge is progressing very well for team AuTomatoes, consisting of consultants, data scientists, engineers, researchers, and students from TU Delft, Van der Hoeven Horticultural Projects, KeyGene and Hoogendoorn Growth Management. They harvested their first tomatoes a while ago, and the results still look promising.
KeyGene is a research company specialised in plant phenotyping and molecular breeding for the development of crop innovations. They aim to support plant breeders in optimising crop yield and quality. For the Autonomous Greenhouse Challenge, KeyGene contributes to the team by means of their knowledge about computer-based plant phenotyping and their ability to develop and exploit next level image analysis techniques. Using cameras, the plant behavior is translated into relevant data. Data scientist Niek Bouman uses machine vision to extract the relevant data from the camera images. This data is then used by Hoogendoorn to improve the AI algorithms in order to optimise the growth climate.
Hoogendoorn consultant Rene Beerkens has 20 years of experience in climate control. He shares his extensive knowledge with the team and works on building new, simple, yet intelligent controls.
Data analysts Evripidis Papadopoulos and Gerdine van Donge are engaged in the development of new and intelligent algorithms to improve irrigation and greenhouse equipment control. In addition, Gerdine uses her out of the box way of thinking to improve several ideas from team members and Evripidis translates the feedback from the crop into data based on this takes decisions about stem density and crop handling.
KeyGene translates plant behavior into valuable data by means of, amongst others, cameras. This data is used by Hoogendoorn to improve the algorithms used to control the growth factors, in order to optimise the greenhouse climate according to the plants' needs. Combined with the applied and fundamental knowledge of Van der Hoeven and TU Delft, the team possesses the multidisciplinary knowledge needed to succeed in the Autonomous Greenhouse Challenge.