Coffee farmers in the Mount Elgon District, located in the Western Province of Kenya, have received nearly US$60,000 funding from the World Bank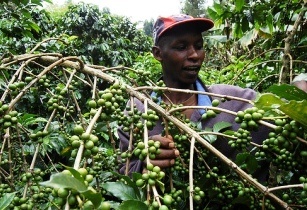 Coffee farmers in Mount Elgon District have been issued a total of US$60,000 by the World Bank. (Image source: joekanyi)
The funds have been transferred through Western Kenya Community Driven Development and Flood Mitigation Programme under the Ministry of Special Programmes.
It will be used for the construction of the Kitaban coffee factory in the town of Kapsokwony.
"This project will tremendously ease transport costs and help famers maximise their profits," said Barnabas Kayos, factory chairman.
The Kapsokisio factory delivered 322,867 kg of grade 1 beans to the millers, which generated more than US$94,000 up to March this year.
Grade 1 beans have been set at high prices by roasters for use in blending as compared to others.
Members of Kapsokisio Farmers Co-operative Society, however, reported poor revenue this season.
Mount Elgon co-operatives officer, Willys Opemi, urged farmers to increase their production capacity so as to exploit the extra capacity available with the new facilities.
Opemi asked the members to embrace transparency in the organisation and structure of the society so as to attract future investors.