Somalia's African Union High Representative Jerry John Rawlings has condemned illegal fishing and dumping of toxic waste on the Somali coastline
The 'by-catch' are thrown back into the ocean, damaging the marine environment. (Image source: habitatnews/flickr)
Speaking at a maritime conference in the UAE, Rawlings said that hazardous waste disposal has caused extensive damage including contamination of fish and birth abnormalities to humans.
He called on the international community to help trace, apprehend and prosecute those responsible for such acts.
"There is nothing more despicable than the dumping of toxic waste along the coastline of Somalia," Rawlings stressed.
"We must seize the moral high ground and create goodwill amongst the people of Somalia by taking the appropriate measures to clean up the shores, arresting and and prosecuting those responsible," he added.
Somali fishermen have reported that the catch has decreased due to the rise in illegal fishing. Local fishing boats catch less than 1kg of fish everyday, while three years before they were catching between 5-10kg. More people are eating camel meat instead of fish due to the rising cost of fish.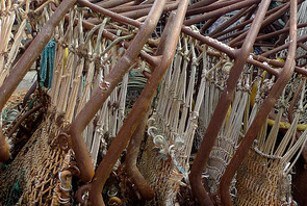 Illegal fishing trawlers have been using drag nets, traps and trawl nets to fish for an array of seafood found in Somali waters such as tuna, sardines, mackerel, lobsters and sharks. In the process, their trawl nets often destroy precious marine habitats.
The trawlers than throw the 'by-catch' or unwanted catches that are dead or dying back into the ocean, creating serious damage to the marine environment.
According to an UN report, an estimated US$300 million worth of seafood have been stolen from Somali waters. Marine analysts, however, have claimed that the actual figure was double this estimate.
Somalia Concern Group chairman Mohammed Gure had earlier remarked that the social and environmental consequences would be felt for decades.
"The Somali coastline used to sustain hundreds of thousands of people, as a source of food and livelihoods. Now, much of it is almost destroyed," he said.
Illegal fishing and toxic dumping have plagued the Somali waters since the collapse of the government.
READ MORE...
SA fishing company to follow sustainable seafood initiative
Social entrepreneurship 'key to fulfilling Somalia's potential'
Major players in poultry, livestock and fish sectors attend Egypt's AGRENA