Cattle have been dying in Senegal as the West African country struggles to cope with drought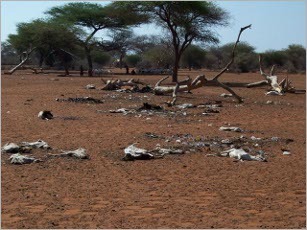 Cattle have been dying in the Sahel region of Senegal. (Image credit: USGS)
The situation is part of the wider crisis in the Sahel region, a semi-arid belt of land south of the Sahara desert.
According to a report by APF, this was the third drought to hit Sahel in a decade. The fields have withered, food depleted and carcasses of cattle have been lying in the open.
In Mbelogne, a hamlet where most of the 450 residents survive off animal husbandry, its chief Ely Hamady Diallo said, "There are problems both with food and water, for people and for the animals. I am a herdsman with 20 cows that are suffering without water and pasture and my people are suffering without food."
Erratic rainfall last year devastated crops and left little or no pasture for livestock in Senegal. Poor harvests caused commodity prices to soar, accentuating food shortage in the region even further.
"We can't even respect tradition and offer you some cold milk. My cow died because she didn't have anything to eat or drink," APF quoted village resident, Yacine Diallo as saying.
The national cereal production is down by 36 per cent compared to 2010, according to a study by the Senegalese government and the U.N. World Food Programme.
"We are faced with a very serious issue, we saw animals dying, children struggling for a bottle of water and things like this. I think it's more serious than we thought," said Oxfam regional communications and campaigns co-ordinator, Patrick Ezeala.
Crops have failed across eight countries in the continent and aid agencies have raised the spectre of a food crisis bigger than the one which left millions of lives starving in 2010.
The UN has said the lack of funding is compromising efforts by aid agencies to respond to the serious situation, citing donor fatigue for the lack of response.