US secretary of state Hillary Clinton has announced US plans to inject US$46mn into the Malawi agriculture sector in order to improve its self-sufficiency over the following three years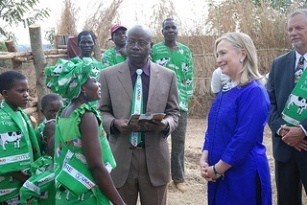 Hillary Clinton visited the Lumbadzi Milk Bulking Group, where she announced US plans to inject US$46mn into Malawi agriculture. (Image source: US Department of State/ Flickr)
As part of her 11-day African tour, Clinton visited Malawi's Milk Bulking Group, located close to the country's capital of Lilongwe, where the US initiative Feed the Future has an on-going project.
Speaking during the visit, the secretary said, "For the past decade, the US has been supporting Malawi's dairy sector. And thanks to your work and the support we have given you, Malawi's milk production has increased 500 per cent.
"Today I am pleased to announce that over the next three years, the US intends to invest in Malawi more than US$46mn to strengthen the entire agricultural chain," she added.
Clinton, the most senior US diplomat to visit the republic in approximately two decades, also presented the centre with one dairy bull and a liquid nitrogen network, intended to help boost diary cattle breeding.