The Tanzanian government has donated 500 livestock to farming families in the Monduli district of the Arusha region as part of a US$7.1mn initiative to replenish heavy losses from the 2009 drought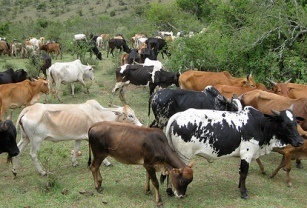 The Tanzanian government plan to donate an eventual total of 6,000 livestock to 1,500 families in Monduli. (Image source: Vince Smith/ Flickr)
Officially donated by President Jakaya Kikwete, the 500 cattle will aid and benefit 125 families, with each family receiving approximately four animals.
The Monduli district commissioner Jowika Kasunga commented that the contribution was only an inaugural step.
"In total we plan to distribute over 6,000 livestock to 1,500 families in Monduli," Kasunga explained.
Additionally, in the neighbouring district of Ngorongoro, officials have welcomed news that the government plans to grant the district with US$400,000 in order to fuel the agricultural-replenishment scheme.
Ngorongoro district commissioner Elias Wawa Lali revealed, "Other districts will be getting US$320,000 a month from the president… but effective from this week Ngorongoro stands to get US$400,000 as special consideration from the president."
The Tanzanian government's 'Seed Stock' initiative, launched in February this year, intends to provide the country's northern region of Arusha with a total of 40,000 cattle, goats and sheep, which are set to benefit more than 6,000 families.
According to government record, approximately 700,000 livestock – more than 310,000 cattle, 230,000 goats and 92,000 sheep – were lost to the drought and subsequent famine that tore through Arusha in late 2009 to early 2010.