Ethiopia on Friday signed an agreement with an Egyptian company, Trust for Trading and Transport permitting it to export live animals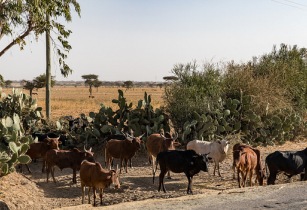 The agreement allows export of 350,000 animals to Egypt over two years. (Image source: Ninara/Flickr)
Under terms of the agreement, 350,000 live animals will be exported to Egypt over two years.
According to the website of Ethiopia's embassy in Ireland, livestock products, leather, meat and live animals are among the top exports for the country, which has the largest livestock population in Africa.
Alebachew Nigussey, state minister of livestock and fishery said that the agreement was a step forward in enhancing trade ties between the two countries.
The Ethiopian Live Animals' Exporters Association, Rimon General Trading PLC and Alfoz Private Limited Company signed the agreement with Trust for Trading and Transport.