Uganda's President Yoweri Museveni has urged political leaders to support the country's farmers in rearing dairy cows to help increase agricultural households' income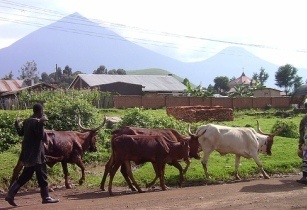 The construction of the Bwizi Bwera-Nsiika road is expected to serve the Ugandan by providing better access to health services in the region. (Image source: gordontour)
Following the success of tea growing initiatives in Uganda, Museveni said that growers in the country could boost their income by rearing cattle.
During a meeting headed by Buhweju County member of parliament, Biraaro Ephraim, the President also took the opportunity to praise the people of Buhweju for their efforts in transforming the country.
Welcoming religious and political leaders from Buhweju, Ganshanga, at his home in Rwakituta, Uganda, Museveni said that he was pleased to see that the people of Buhweju were involved in income generation to improve their quality of life.
The president said that the construction of the Bwizi Bwera-Nsiika road is set to benefit Ugandan's by improving the accessibility to health services in the region through the provision of an ambulance and a district doctor.
The Ugandan government will also consider a request to pay damages to the people who lost their property during the liberation struggle in Buhweju, Museveni revealed.