Poultry farmers in Kenya's central province earned KES 4.1 billion (US$47.3 million) in 2011, which has indicated strong growth in the sector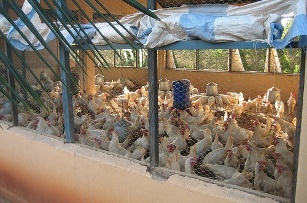 More Kenyan farmers have been taking up poultry farming due to the small size of farms. (Image source: Erik Cleves Kristensen/Flickr)
Sales of chicken meat and eggs in the industry have risen significantly due to the increase in demand.
Speaking at the release of the 2011 livestock production report, Central Provincial director of livestock production Mary Kanyi stated that more Kenyan farmers were taking up poultry farming due to the small size of poultry farms. 
"A high demand for poultry products in the country's major urban areas has greatly fuelled the industry to thrive, with local hatcheries struggling to cope with the current demand by farmers for day-old chicks," said Kanyi.
The current price for a day-old chicks in the region stood at KES 60 (US$0.69) for broilers and KES 100 (US$1.15) for layers. It is expected that the high demand would push up prices even further.
Substandard poultry feeds, lack of organised markets, shortage of breeding stock to improve indigenous chicken and high prices of day-old chicks have continued to pose challenges to the industry.
"My department had embarked on training farmers to prepare nutritious homemade poultry rations and encourage the formation of marketing groups to get maximum returns as well as encouraging the establishment of more hatcheries in the area," Kanyi remarked.