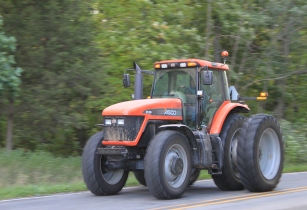 AGCO reports their third quarter results with some growth in Europe/Africa/Middle East (EAME)
---
AGCO, the worldwide manufacturer and distributor of agricultural equipment, has reported net sales of approximately US$1.8 bn for the third quarter of 2016, an increase of around 1.5 per cent on the third quarter of 2015.
According to the reported regional sales results, compared to the third quarter of 2015, the Europe/Africa/Middle East region grew by 1.7 per cent.
Reported net income was US$ 0.50 per share for the third quarter of 2016 and adjusted net income, which excludes restructuring expenses, was US$ 0.51 per share. These results compare to reported and adjusted net income of $US 0.77 per share for the third quarter of 2015. Excluding unfavorable currency translation impacts of approximately 1.2 per cent, net sales in the third quarter of 2016 increased approximately 2.6 per cent compared to the third quarter of 2015.
"AGCO's 2016 results reflect the adverse impact of operating in the lower end of the agricultural equipment cycle, particularly in North and South America," stated Martin Richenhagen, AGCO's chairman, president and chief executive officer. "In this environment, we are taking the necessary steps to ensure AGCO remains competitive by maintaining investment levels and serving our customers with superior products and services. Our long-term optimism within the agricultural industry and our business remains high. We are making significant investments in order to provide new products, new technology and improved distribution over the next few years aimed at further improving our competitive position. We also are investing for long-term growth as evidenced by our acquisition of Cimbria, which closed during the third quarter. This new investment significantly enhances our market position in the European grain handling and storage industry and provides an attractive opportunity to grow our business and expand our margins."
AGCO's third quarter report can be found here.