New Holland Agriculture displayed its product range, which included a its huge selection of fuel-efficient tractors, combines and hay and forage equipment, at Nampo Harvest Day in Bothaville, South Africa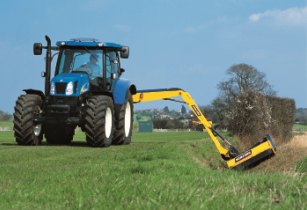 New Holland Agriculture showcased its products at the Nampo Harvest Day near Bothaville in South Africa. (Image source: New Holland Agriculture)
New Holland Agriculture used its stand to showcase its products at the event which was held from the 14-17 May 2013.
The full range of tractors included the T9 and T8 series at the top of the range, while popular models like T6000, and the fuel efficient TD5 and TT Compact Series launched last year, were on display.
The new 2WD version of the TDF orchard tractor, which was designed for the South African market, was also unveiled to event attendees.
Spokespeople for New Holland's distributor, New Holland South Africa, invited guests to the stand to explore the products and discussed how they can aid them through their network of 102 dealer outlets and two branches, in addition to the New Holland training centre in Johannesburg.
Visitors were also given the opportunity to learn more about the various financial services provided by CNH Capital, which offers finance options for contractors seeking to own or lease equipment.