Trimble has introduced the Trimble GFX-750 display system for agriculture applications, aiming to provide farmers with more robust signal availability to ensure more active working time, especially in hilly terrain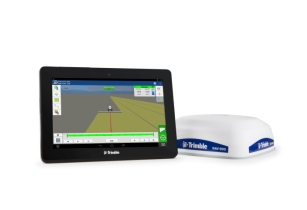 The GFX-750 display system comes with a triple-frequency multi-constellation GNSS receiver from Trimble that uses GPS, GLONASS, Galileo and BeiDou satellites together. (Image source: Trimble)
The display system comes with the roof-mounted NAV-900 guidance controller which features Trimble's multi-constellation GNSS receiver.
The high-resolution 10.1-inch display aims to work with tractors and is ISOBUS-compatible, a universal communication protocol. ISOBUS aims to allow one display or terminal to control several implements and machines, regardless of manufacturer. It further focuses on standardising the control settings, reducing downtime and minimising installation and interface challenges and simplifying data exchange and machine control.
The announcement was made at AgroComplex, an international agribusiness exhibition held in Kiev in Ukraine. The company said that the GFX-750 display will also be showcased at the upcoming Agritechnica show which will be held in Hanover from 13-17 November 2017.
The features of the display system include flexible connectivity between devices through integrated wireless options including Bluetooth , Wi-Fi and BroadR-Reach high-speed communications, seamless communication from tractor to farm equipment through Field-IQ basic or ISOBUS control, ability to connect to signal corrections including CenterPoint RTK, CenterPoint VRS, Trimble RTX technology and SBAS through the NAV-900 controller, compatibility with Trimble Autopilot automated guidance systems for both hydraulic and electric installations and interoperability with Trimble Ag software to support the needs of the farm management across the farming ecosystem.
Abe Hughes, general manager of Trimble's agriculture division, said, "This integrated system, plus the implement control solutions offered by Müller-Elektronik, a Trimble Company, continues to deliver on our vision to provide a unified platform that seamlessly connects the hardware and software needs of farmers worldwide."
"This comprehensive display system can enable farmers to more easily adopt precision agriculture solutions across their farm, regardless of vehicle make, model or year," Hughes added.