Livestock and equipment including oxcarts, animal-drawn ploughs and bicycles have been donated to smallholder farmers in Manica and Tete provinces in Central Mozambique by the United Nations World Food Programme (WFP)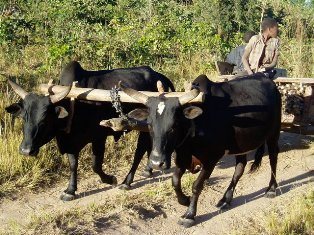 Livestock and equipment including oxcarts, animal-drawn ploughs and bicycles have been donated to smallholder farmers in Manica and Tete provinces, Mozambique. (Image source: Josh Wood/Flickr)
The purchase of the machinery has been made possible by a donation of approximately US$54,000 from USAID.
A ceremony to mark the event was held on 17 September 2013 in Bárue with the provincial governor, district authorities, aid agencies and members of local farmers' associations all in attendance, the WFP said.
The organisation said it will provide a total of 22 oxen, 12 oxcarts, 12 ploughs and 12 weeder machines to associations including Samora Machel, Siwama and Cooperativa Kuguta Kuchanda in Manica Province and Tilimbique and Chigurizano in Tete Province.
More than 200 special bicycles, adapted for use in rural areas, will be given to female farmers at a subsidised price so they can more easily reach local markets, the WFP said.
With the assistance of Banco Oportunidade, a revolving fund will be established using the money paid for the bicycles to support other initiatives.
USAID's donation was made in support of the WFP's Purchase for Progress (P4P) programme, which aims to create markets for more than 21,000 farmers in Manica, Tete, Nampula, Zambézia and Sofala provinces.
P4P is designed to build the capacity of farmers' associations and smallholder farmers, enabling them to become more competitive and more productive, said the WFP.
To increase opportunities for women in P4P, the WFP – in collaboration with international aid organisations Tillers International, the Cooperative League of the USA (CLUSA) and the Men for Change Network (HOPEM) – introduced a gender programme earlier in 2013 in Manica and Tete which included needs assessment, training and follow-up activities.
According to the WFP, the results of the assessment showed that lack of transport and animal traction equipment were primary constraints on the productivity of farmers.
WFP representative and country director Abdoulaye Balde said, "Supporting women is part of WFP's gender strategy to ensure they have equal opportunities to improve productivity in their fields and compete with men in accessing markets."
After receiving the equipment, the farmers will undergo training on its use from CLUSA, Tillers International, HOPEM and Banco Oportunidade.