On 2 March, Niger announced its decision to join a key UN water-sharing agreement with its Lake Chad neighbours in the increasingly drought-prone Sahel region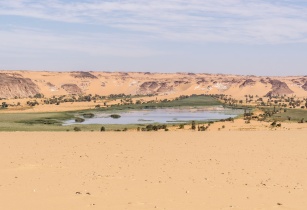 For Niger, the decision to join the agreement is significant, because it shares 90% of its water resources with its neighbours. (Image source: Adobe Stock)
The development comes ahead of the UN water summit in New York next month, where countries will gather to find solutions to tensions caused by water scarcity. Niger's decision to accede to the Water Convention is a decisive step for the region since it gives Lake Chad – whose volume has shrunk by more than 90% since 1963 – full legal protection under the convention's framework.
Equally important, is the opportunity all parties to the accord now have to make progress together on water access, sanitation, hygiene and health, said UNECE, the UN body tasked with implementing the convention.
"Water scarcity in particular threatens the livelihoods of millions of people who depend on rain-fed agriculture and livestock," UNECE explained. "In recent decades, competition for land, water, and food has intensified in the region, leading to increased instability, particularly around Lake Chad and in the Niger River basin."
Chad and Cameroon are already parties to the Convention, and Nigeria is in the process of becoming a signatory, too. For Niger, the decision to join the agreement is significant, because it shares 90% of its water resources with its neighbours.